BLURB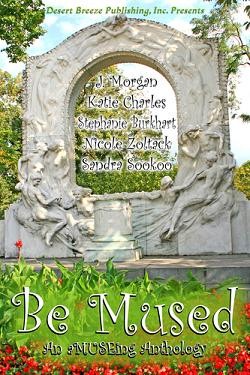 Isolde is a Muse from New Galatica. After helping Jane finish her latest novel, she goes to Berchesgarden, Germany on vacation and meets Tristan. Isolde and Tristan fall in love, but in order for them to have "happily ever after" they have to get their writers, Jane and Antonio to fall in love!
***************************
Excerpt from "Matchmaking A-Muse-Ment"
People rushed by them on the sidewalk. Jane hardly noticed. Cars honked, radios blared, but Jane was totally fascinated by the man next to her. He was easy on the eyes, and she had an irresistible urge to run her fingers through his thick, ebony hair. She bit the inside of her lip at the devilish thought. He was practically her age, and he wasn't put off by her shoe accident. Most men would have turned their nose down at such a mishap and walked right into a cab. "So, 'A,' what do you write?"
"World War II thrillers. My first novel was The Berlin Spy."
"That was on the New York Times best seller list, wasn't it?"
"It was. Twenty weeks. I just finished The Berghof Secret."
Jane stopped and pointed. "My shoe store."
"Do you want me to wait outside?"
She dug into her purse and handed him a couple of twenties. "Nine West flats, black or brown, size ten."
He raised an eyebrow and pursed his lips, looking a tad bit befuddled. "You want me to buy your shoes?"
She pointed to a sign on the door. "No food, no shirt, no shoes, no service."
'A' turned around. "I've never bought women's shoes before."
"I trust you."
"You just met me."
"You have kind eyes," she replied, lowering her voice.
He hesitated and his cheeks blushed a little. Jane sensed he was warmed by her trust.
"I'll be right out," he said.
She nodded her head and he walked inside. Once inside, Jane glanced around, looking for her muse. "Isolde! Isolde! Where are you?"
Isolde fluttered up. "Isn't he gorgeous?"
Jane flashed her muse a frown. "That's not the point! You're up to something."
"Moi?"