Cast of Characters:
All That Remains/...Are Your Dirty Little Secrets
" Kristina Banning "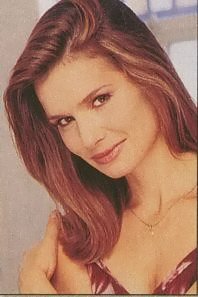 Kristina didn't have an easy childhood either. She sought to escape her alcoholic father by getting pregnant with her boyfriend's child when she was sixteen. But by then, Miguel had runaway from his own problems. Kristina gave her child up for adoption and then focused on making her life better for herself. She pulled herself up from her situation and went to law school to become a lawyer. She's totally career focused when she meets Darrin.
Darrin melts her heart like no other man she's ever met. His captivating good looks send her common sense into a swirl when she's around him. Deciding to take a chance, she accepts a marriage of convenience with Darrin not knowing what will happen.
Kristina's full of complex emotions and Florencia Lozano, best known for her role as "Tea Delgado" on the daytime drama "One Life to Live". Pretty and petite, the actress had such amazing chemistry with Roger Howarth on the show, I saw only these two for such romantic, moody roles.